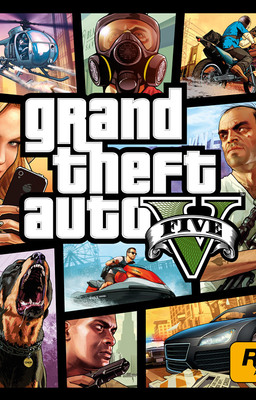 One of the most highly anticipated games of its year we have ever seen and let me just say that it has not disappointed. I remember playing playing GTA IV and thinking it was a game changer, but it would be hard for Rockstar to do better with GTA V.
Los Santos: a sprawling sun-soaked metropolis full of self-help gurus, starlets and fading celebrities, once the envy of the Western world, now struggling to stay afloat in an era of economic uncertainty and cheap reality TV. Amidst the turmoil, three very different criminals plot their own chances of survival and success: Franklin, a former street gangster, now looking for real opportunities and serious money; Michael, a professional ex-con whose retirement is a lot less rosy than he hoped it would be; and Trevor, a violent maniac driven by the chance of a cheap high and the next big score. Running out of options, the crew risks everything in a series of daring and dangerous heists that could set them up for life.
Let me begin by saying that the game is visually stunning, which is not surprising considering the game's insane budget. Los Santos and Blaine County were created beautifully. The best graphics and effects I've seen yet in an open world sandbox game.
The game FEELS like San Andreas. Right from the first mission to the opening credits – the gangbangers street talking like you would hear on The Wire. At this point I have to say that the voice acting is superb. All of the characters show emotion through their voice and the dialogue is absolutely brilliant. Most importantly, these characters feel real, you can actually sympathise and feel emotions towards these characters. Something I didn't for some reason ever feel for Niko Bellic in GTA IV, perhaps it was his Russian always same-attitude kind of guy.
Driving cars, planes, boats, bikes and motorcycles has never been more exciting. The vehicles seem to turn and maneuver a lot easier than in GTA IV. Nothing beats the feeling of driving a freshly stolen sports car wrong way on a highway while the radio is playing. Just watching the cars hitting each other, while your character yells them that it was all their fault. With a proper car you can really feel the speed while you're going. And as cars are actually easy to control, you can really speed through miles without hitting anyone. It's just really fun to slalom through the traffic. You feel like a stunt driver in a movie.
Storywise the game cuts all the unnecessary. No more delivering packages to friends or picking someone up to learn the controls. Right from the bat you're thrown in the middle of a bank heist and it doesn't really get less hectic from there. The missions are creative (yet pretty much GTA material) and have nice unexpected twists and turns as you go along. If you fail a mission they have enough checkpoints to make trying again a lot more fun rather than a chore. The missions can range from stealing cars to planning all-out heists.
One of the great main features with the game is switching playable characters from the fly. All of the characters have different story lines, backgrounds and skill set. Frankling is a gangbanger used to stealing cars, Michael is a retired bank robber and Trevor is just your typical Breaking Bad gone for too long. All of them are fun to play with, each offering their own unique mission set, they are also very easily to change between or during missions.
Difficulty level seems to be just fine for a casual player, but I found it a bit too easy. If you take cover and follow the instructions by the word, you can down 15 guys in a row, even further you could probably survive throughout most of the game without dying once, that is unless you intentionally piss off the cops.
Heists are the ultimate action setpieces, from the planning to the getaway, no heist feels rushed or tacked-on. You select your crew from a series of documents, choose an approach (obvious or subtle) and steal everything that is needed to pull it off, under the guidance of the brilliant Lester Crest. There is nothing more satisfying than making a clean getaway, armed police in toaw, and escaping with load of cash divided amongst your party. Other missions involve driving, shooting, or a combination of these. Insane stunts worth of a 007 movie are the norm. You'll parachute from a falling cargo plane, drive a motorcycle on top of a moving train, and even fly a plane into the cargo hold of another plane! The incredible size of the game world is fun to travel around thanks to beautiful scenery and a large variety of radio stations (with real music and real DJs) that most vehicles can tune in to.
While driving is still the foundation on which the series is built, shooting has taken many cues from the third person shooter genre. You aim your weapon from an over-the-shoulder perspective, and can take cover behind any solid object. You can even fire blindly around corners, which helps out a lot because the characters are far from invincible, taking just a few hits to send them back to a mission checkpoint or hospital. The character models and their clothes show blood stains in areas that have been hit by gunfire or blunt force. You can buy carying levels of body armor for added protection, but it cannot be reused if depleted, so cover is still advised. Your health regenerates, but only to the halfway mark, which adds punishment for being careless but not so much as to be frustrating. Medical kits and junk food will restore your health even further. Unlike most shooters where you are limited to how much equipment you can carry, in this game you can carry every obtainable weapon at once, as well as purchase ammo, attachments, and armor from any gun shop. By default you will snap to the nearest target but this can be disabled for an added challenge, since there are no difficulty settings.
A solid story, realistic characters, catchy music, beautiful landscape, tons of side quests and activities, superb vehicle handling, and engaging missions make for a game that is a rare gem of entertainment and nothing short of a master piece. Believe the hype. Believe the record-breaking development budget and sales figures. Put heroes aside for once because it's just as much fun to be nasty. Los Santos is the ultimate playground of liars, cheaters, thieves, and rotten scoundrels. Once you enter, you'll never want to leave.
In Summary
The Good
Stunning Open World
Addictive Gameplay
Diversifying Storyline
The Bad
Occasional Glitches and Bugs
---