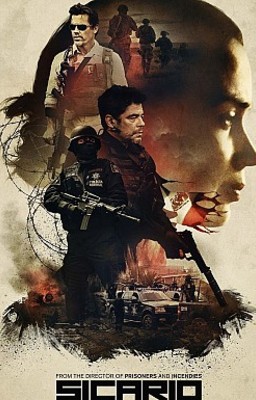 Year
2015

Director
Denis Villeneuve

Running Time
121 min
An idealistic FBI agent is enlisted by an elected government task force to aid in the escalating war against drugs at the border area between the U.S. and Mexico.
You've seen it a million times in about a thousand different angles, so how could a movie like Sicario offer any new take on the war on drugs? Surprisingly it did with some original use of cinematography to create tension and suspense in an all too familiar world of drugs, corruption, and death. Coupled with a strong cast (Emily Blunt, Benicio del Toro, and Josh Brolin) to execute director Denis Villeneuve's manuscript, Sicario manages to keep you interested throughout but like Villeneuve's previous film Prisoners it comes at a cost of an enduringly slow plot, so much so that the film might as well have been 3 hours.
One thing that must be known before entering the movie that the trailers have greatly misled you to believe is that this is not Emily Blunt's movie. It's Benicio del Toro's and that's not bad because he's perhaps the most interesting character of them all. Sicario has an interesting tale to tell about the costs and sacrifices that have to be made in order to control an all-too brutal cartel drug war. Sicario sets that 'reality' tone with such a daring defiance of the American ideological values and 'ends justify the means' attitude that it wouldn't be hard to believe if what you were seeing was actually based on true events. However with great art comes great sacrifice. For Sicario it's time and a lot of it as the plot can be pain stakingly slow at times and other times too quickly rushed. Sicario has a hard time in setting up its plot that kills off any satisfaction from the ending of the film.
However that doesn't mean that Sicario's characters aren't interesting, far from it. As mentioned earlier Sicario delivers an A star cast to helm Villeneuve's manuscript for Sicario. Emily Blunt, the female lead of the film and an actress who has had a hard time finding her ground in film roles, delivers a rather intrinsic performance as an ideological boy-scout agent exposed to the pain-staking reality of the American involvement in the cartel war. Though as I said before this isn't her film, I can see why she was marketed in that way as Emily Blunt successfully pulls off the wide array of emotions expressed by her character to overcome both the physical and psychological trauma she has to go through. As for Benicio Del Toro, the main intrigue of the film and the Sicario of the film, he delivers an excellent performance and drives the plot throughout the film. I wouldn't be surprised if he were to get his own standalone sequel to explore more of his character. Josh Brolin, though not merely as interesting, provides a fair counter-balance to Del Toro and as Villeneuve's messenger as the main themes are expressed through his dialogue. Overall the cast manage to share vivid chemistry amongst them which makes for a fruitful film.
Now to perhaps the most interesting aspect of them all: cinematography. As a technical endeavor Sicario flourishes with some amazing shots of Mexico and creative use of camera shots to create suspense. Without spoiling much there is a scene in which an American hostage transfer operation is stuck in traffic surrounded by the Mexican cartel closing in which truly highlight Villeneuve's creativity. Not to mention the darkened filter, the use of shadows, and first person camera shots which provide for quite an original and thrilling experience throughout.
In conclusion, Sicario is yet another proud project Villeneuve can add alongside Prisoners as it delivers his most accessible and compelling piece yet. Vileneuve takes on drug war and presents it as a dramatic thriller rather than just a bland action movie and it is through this reclassification that he manages to dig so much deeper into the core problems and the practical solutions of the war on drugs. Of course Villeneuve's newfound way of filmmaking requires a certain adaptation process as his work tends to be stretched out through thick and thin and other areas remain to be explored. Sicario is a great film for those who want to be challenged both visually and ideologically.
In Summary
The Good
Spectacular Cinematography
Emily Blunt and Benicio Del Toro
Dark Reality Story
The Bad
Painfully Slow
Unsatisfying Resolution
---