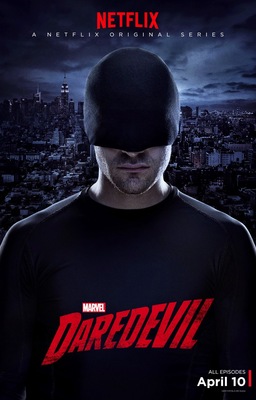 Year
2015

Director
Drew Goddard

Running Time
60 min
After the critical success of DC shows Arrow and The Flash, it's time Marvel tried to bring upon its own vigilante to the screen. The Result? Daredevil. Similar to Oliver Queen and Barry Allen, protagonist Matt Murdoch loves his city and even more so the neighborhood of Hell's Kitchen. The story of a violent vigilante is best left unbounded by the standards and practices of primetime and while Arrow does a fine job of operating within them, the benefits of existing outside their limits become increasingly vivid after spending just a short time in the world of Hell's Kitchen.
A blind lawyer, with his other senses superhumanly enhanced, fights crime as a costumed superhero.
Daredevil presents us with a much darker area of the Marvel Universe and while it perfectly fits as its own crime drama, manages to bring connection to specific Marvel events in other, more lighter worlds. More importantly, Daredevil's cast of characters feel more intimate and realistic than its more televised and silver screen counter-parts, as lead Charlie Cox and side kick Eldon Henson feel perfectly in sync with the grim world of Hell's Kitchen, closely connected with their neighbor's struggles to keep the battle for their city personal.
One of the greatest enlightening features of Daredevil is its sense of humanity that presents itself in the series on every level, especially when the hero struggles through every fight without any billion dollar suits or mutli-national government agency having his back. While his MMA fighting skills do impress, it is the beatdowns he receives from his enemies time and time again in a suit that can be bought on a teenager's allowance that gives the show a sense of reality and closeness. When the show isn't focusing on Daredevil's hunt for justice, it emerges an ensemble piece, affording Foggy, Karen, Ben and more plenty of stories and victories entirely independent of Daredevil, rarely learning on its titular hero as heavily as most superhero movies. Actor Vondie Curtis-Hall's Ben Urich makes himself his own hero in his own sense, putting forth journalistic street wisdom as effectively as Matt whips at their owner's foreheads, all the while Foggy has proved himself to be far more than just a useless sidekick.
If this wasn't enough, Vincent D'Onofrio's portrayal of Wilson Fisk is an actual human being gone bad, then just a cardboard cutout from the comics, from the timid child to the ruthless monster. Fisk's shyness and anti-social qualities separated him from most crime boss cliches and helped us understand why a man such as himself would become so lethally attached to the few people he knows.
Daredevil took a while to get the pace interesting but when it did, it was a show that I could not stop watching. Each episode was edited in a way that Marvel could express the artistic beauty of Hell's Kitchen and the dystopian crime underworld whilst not distracting viewers from the plots at hand. The sound editing was clear and the soundtrack was chosen carefully and effectively. In a way Daredevil is not a Hollywood blockbuster soap opera but a low-budget artistic expression of hope in a dark world.
Overall, Daredevil was the superhero show we've been waiting for, the Nolan art on the TV, exploring what Nolan couldn't and what Arrow wouldn't. The show is just another reason of the hundreds that you should get a Netflix account and why should be looking forward to another season of Daredevil in 2016.
In Summary
The Good
Realistic Fight Sequences
Cutting-Edge Story
REAL Characters
The Bad
Pacing Slow in the Beginning
---