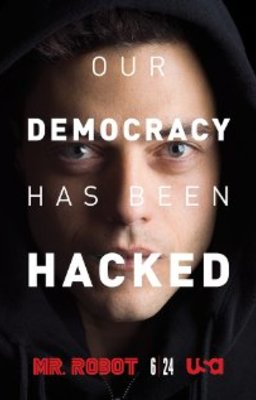 Year
2015

Director
Sam Esmail

Running Time
44 min
Follows a young computer programmer (Malek) who suffers from social anxiety disorder and forms connections through hacking. He's recruited by a mysterious anarchist, who calls himself Mr. Robot.
USA Network is known for its upbeat classy TV shows like Suits and White Collar which are predictable but entertaining nonetheless. So my question is how on earth did it manage to pull off the thought-provoking addicting drama that is Mr. Robot? Penetrating viewers at a point of saturation who've become accustomed to watching the same bland shows without any true originality in them, Mr. Robot sparks that glimpse of hope that we see every once in a while of a revolutionary show. Easily being the hidden gem of the summer, Mr. Robot brings out all the bad in our society and amplifies it by a factor of 10, in a dystopian world which begs for a social and digital revolution. Tackling the status quo on our modern social behavior, consumerism and corporate greed by virtue of the complacency amongst the proletariat becoming a core issue and theme amongst the series of which the protagonist is deeply disturbed by. Ironically it begs the question that if our satisfaction with the quality of sub-standardized TV series has become so entrenched in our society, when we are finally greeted with a godsend of the kind of talented artistic expression that this show offers preventing itself from being dumbed down or hollowed out in effort to attract high audience numbers, will we be able to transcend our usual tastes or will the level of real, thought provoking narratives lead a disinterest among the typical audience and eventually result in the show's demise?
Mr. Robot pulls you right in from its first episode and keeps you hooked throughout the first season with a deep down cynical look at contemporary society. . It is a common trend for films and tv shows with a focus on computers and hacking to overplay the "coolness" of something as bland as a code program and turn it into a lieu of fantasy and endless imagination. The show does not rely on any over the top action sequences or CGI effects to keep its viewer base interested but more in how characters develop and how the plot story progresses. Pain, love, loss, and euphoria are all emotions felt and suffered by the characters on the show, all in their own way and motivated for their own reasons. Deep down it really expresses the struggle to survive and cope in such an overwhelmingly dystopian society. Without spoiling much, Mr. Robot pays a great homage to David Fincher's Fight Club towards the end of the film which really does add the extra spice to the end of it. That being said Mr. Robots pacing can be uneven at times, some side plots being pulled too long or too short. Though it happens a limited number of times, it pulls back the audience from being able to enjoy the show as the flow is stuttered opportunities missed and mistakes prolonged. Hopefully this is something that Mr. Robot will learn to improve on for the second season.
Rami Malek, who used to be Mr. Nobody from nowhere, tackles the socially awkward protagonist perfectly and really helps bring an excellent concept to reality. In such a role it was obvious that the actor needed to approach it with tenacity and concise understanding of the type of isolated behavior he needed to portray. It's almost best if that person was Rami Malek than a better known actor, maybe then Mr. Robot wouldn't have had nearly half the impact that it did. Rami Malek's success in Mr. Robot is no secret as he will be appearing in everything to come à la Bryan Cranston with Breaking Bad. Supporting cast members also delivered strong performances, most notably Christian Slater as the demonic and senile mentor to sort of balance what is ultimately Malek's one man show.
Cinematography is an important aspect to TV series, one that many seem to forget and thus not appreciate. The way in which a certain scene is shot with certain filters and background music make all the difference between a bland scene and a masterpiece of a climax. It is the vessel in which emotion can be expressed and creator Sam Esmail does just that as every episode takes on its own emotion and message to the audience. It's a dystopian world created by the cinematographic choices by the director and creator provoking the audience to really think twice about the world that they live in.
Even if the show does not gain the mainstream attention it deserves, it attracts a strong loyal fan base large enough to create a cult following. It's a show that requires to come in with some patience and an open mind because it's a whole other form of a tv show but its payoff is greater than any other soap opera like Pretty Little Liers or Gossip Girl: it actually has meaning and depth behind it! That being said, if television programming has become so entrenched in our society, how could we ever recognize true artistic talent over authenticity lacking sit-coms even if it slapped us in the face? Here's to hoping we wake up!
In Summary
The Good
Cutting-Edge Reality
Thought-Provoking Themes
Rami Malek's Breakout Performance
---