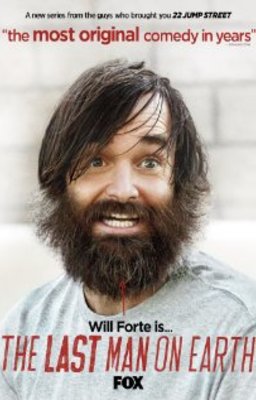 Year
2015

Director
Will Forte

Running Time
30 min
When it comes to Apocalyptic Shows, the protagonist we are presented with usually is someone more than capable of handling the situation from Rick Grimes, the police sheriff in The Walking Dead to James Cole, the chrononaut in 12 Monkeys. That being said, Phil Miller is the last person you'd ever expect to be The Last Man on Earth, just a middle-aged caucasian with a passion for Star Wars, Twinkies, and sex. With a bushy beard and paunch, hoodie and baggy khaki shorts, Phil looks like a grizzled slacker Jesus.
The year is 2020, and an unnamed virus (and no, it does not involve zombies) has seemingly killed every man on Earth except Phil Miller (Forte), a 41-year-old former temp who clings to photos of his vanished family. Having searched America in vain for other survivors (leaving "Alive in Tucson" signs behind, just in case he missed someone), Phil now settles in for life on his own.
The silence in your home might very well be broken by bursts of laughter. There may be even a few cheers for Will Forte's outstanding achievement. In the wrong hands, the show could've easily become either too dark or just plain silly: Another Walking Dead wannabe or The 100. Instead Forte and Phil Lord and Chris Miller, the creative minds behind The Lego Movie, who serve as producers and superbly as directors have adeptly walked a middle line, tackling a scary subject with a comedic approach, but keeping the humor grounded in reality. None of which would be possible without a tour de force performance by Forte, who immediately pushes himself into the consideration of many awards for his acting.
The Last Man on Earth is a comedy and possibly one of the spring season's best new shows. As both the show creator and star, Will Forte has a gift at character-oriented comedy and poignancy keeping it light, grounded and affecting. The images are breakdown poetic, the pacing is brisk, the tone is gritty sweet.
The show is refreshingly funny so far because you never know what's going to happen next amplifying the comedic effect with every new episode. The writers make strong choices and stand by their choices. There is no "will they, or won't they?" vubem and we would have seen that type of thing as facile anyways; I suspect that the show will be about rolling with the punches and learning to love what's in front of you. Plenty of heartwarming moments should follow.
The first season of The Last Man on Earth demonstrated huge imagination for entertaining scenarios that express Phil's existential struggle. There are things I can't discuss for spoiler reasons, things that take the show deeper, that beg reflection on the point and value of societal rules and norms. If Team Forte can sustain the ingenuity, surprises and craftmanship for any season, the show might live long and prosper to become the new comedic hit and join among the ranks of Modern Family and The Big Bang Theory.
In Summary
The Good
Amazing Lead Performance
Hilarious Screenwriting
Reflection of Societal Norms
---