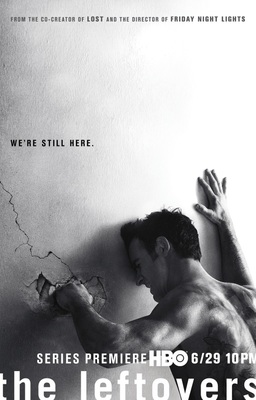 Year
2014

Director
Peter Berg

Running Time
60 min
Revolves around mysterious disappearances, world-wide, and specifically follows a group of people who are left behind in the suburban community of Mapleton. They must begin to rebuild their lives after the loss of more than 100 million people.
It's come to a point in modern society where a wedge has been drawn in television programming, between cable programs which seek to exploit the leftover material from previous hits (most notoriously sitcom shows and dramas) and then those who seek to think outside the static box of TV and bring about innovation. Up and coming companies like HBO and Netflix have taken on the task to dethrone the goliaths of TV like NBC and Time Warner by raising the standard of television programming, threatening their profitable monopolies. The Leftovers is one of those new standards.
Contrary to its name, The Leftovers is a new show which blends the mystery and character development we all look for in a show with a finite choice of artistic elements such as soundtrack, cinematography, and production design. Its only sin is not having been recognized at all by mainstream audience, as well after its second season, it has yet to attract critical or financial acclaim. Hopefully before its planned 3rd and final season this won't be the case anymore.
The Leftovers takes out a page of the Bible in a world where 2% of the population has vanished in thin air. Prompted by the uncertainty of the situation, religious, scientific, and social factions have risen to fame and haunted the world. It's very much a story about division as it is about unity. The Leftovers' story arc plays out where each episode is focused on a specific character and it is through this character that we are told the way things play out, unlike in other TV shows where things play out and you revel in the characters' reactions. The stakes aren't always as high as other shows, but when faced with a problem The Leftovers allows you to explore a solution, not dictate one for you.
Character development is a central element in this show, as we explore the emotions of each of our main characters as their beliefs are tested, their limits are broken, and lives spun out of control. What's particularly fascinating is the fact that all of this is powerfully played out by a cast of new comers with an undeniable scent of charisma and effort. It is only a matter of time before these actors and actresses are recognized with critical accolades and are moved onto the silver screen à la Bryan Cranston.
Art in TV has been a long-forgotten style on the basis that it just isn't as profitable. And because of it we have been forced to be satisfied by the bland aesthetic value cable television has brought. The Leftovers reinvigorates this style by bringing about sensual cinematography and a soundtrack that chills to the bone of its viewers. The manner in which the camera manages to capture the character's every micro emotion and how the soundtrack seamlessly fades in to the scene are the little things that go a long way in television programming.
Overall The Leftovers is the TV show viewers never asked for, but the one that they deserve. For is the show teaches us anything after 2 seasons, it's that quality should never be compromised over quantity.
In Summary
The Good
Phenomenal Acting
Artistic Cinematography
Creative Storytelling
---